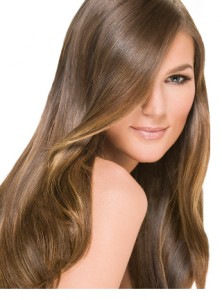 As with skin, what you eat affects your hair. Hair follicles rely on nourishment from the bloodstream, but they compete with the rest of your body for nutrients.
Body distributes important and vital nutrients in order of importancy of survival.
Hair is nonessential organ. If your diet is lacking nutrients and vitamins, they first will be delivered to vital organs and hair and nails will get it last. The result – dry and slow to grow hair.
Fixing it – simple: all you need is two serings of protein a day, 6-7 servings of fruits and vegetables and 2 servings of wholegrain carbohydrates.
If your hair looks dull and not shiny.
Lifted cuticle causes hair to look dull, less shiny and does not protect hair from UV rays. The answer – protein. Proteins are building blocks of our body, building blocks of our cells, including hair. How much protein to eat? 1/3 gramm per pound of weight per day. For a person of 120 lb it is 120:3=40 gr of protein a day.
Dry hair usually have EFA defficiency. EFA – Essential Fatty Acids found in nuts, seeds, oily fish. If your hair dry and frizzy, make sure that your diet is rich on protein and EFA, these two ingredients will protect cuticle of hair from lifting, making sure it is flat and has great resistancy to dry air, UV rays, pollution. Also extra Fish oil intake will help with hair dryness. We recommend Nordic Fish Oil as finest fish oil, highest quality.

Hair that won't grow.
Vitamin B, energy storage for your whole body, is responsible for hair growth. If your energy levels are low, hair growth slows down as well.
Secret – eating often small portions. Eating small prtions often will keep energy level up, extra intake of group B vitamins, like B-complex – is important. The most important vitamin for hair growth is Biotin ( also called vitamin H). Biotin helps create thicker, faster-growing hair. We recommend at least 5000 mg a day of biotin.
Thinning hair shows that your body most definitely have iron deficiency. Make sure you are taking at least 14.8 mg of iron per day. Especially it is important for women, as we have period every month, when there is a lot of blood lost. Taking supplements is important if you do not consume lean red meat or plenty of dark green vegetables, natural sources of iron.
Also, too much vitamin A ( over 10,000 units per day) will cause hair loss. Check your supplements to see how much of vitamin A you are taking.